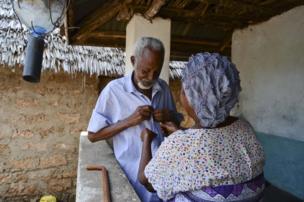 When Didi first came to the Nightingales Dementia Day Care in Bangalore, India, she was extremely depressed, lonely and frequently confined to her wheelchair. Now she is much healthier and one of the most sociable participants. She is seen here with Ashwan, a member of staff at the centre. Terry is living with dementia. He and his wife, originally from Hong Kong, found his diagnosis process very stressful. Terry's behaviour has changed a lot, making it difficult for others to support his wife with caring for him in their home. A Chinese-focused health centre in London now supports them both to live well. Sarah (not her real name) cares for her older sister, who lives with advanced dementia in South Africa. Their family believe that both are cursed – the sister because of the symptoms of her dementia, and Sarah, because she has not abandoned her. Sarah has taken her own young daughter out of school to help with caring duties and to save money to support the family.
https://www.bbc.co.uk/news/in-pictures-45471581

An Insightful Overview On Fundamental Details In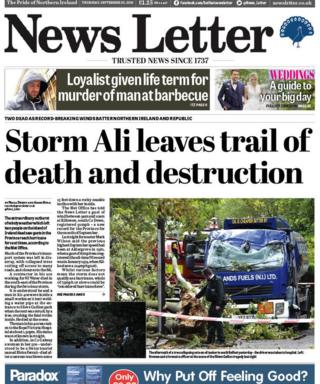 A local priest, Fr Sean Smith. said it was "tragic that a visitor to the community should lose her life in this way". Meanwhile, the death of a man in his 20s in County Armagh is the focus in the Irish News, News Letter and Belfast Telegraph. They report that the man, who was a contractor for NI Water, died when he was struck by a falling tree. Another man was seriously injured. Both the News Letter and Belfast Telegraph front pages feature a dramatic picture of a lorry that was seriously damaged by a falling tree in Belfast, with the News Letter reporting that winds on Wednesday reached "hurricane force at times". While most of the front pages focus entirely on Storm Ali, the Belfast Telegraph's also carries a story on a sister who turned in her "killer brother". Margaret Lamelas told the newspaper she has nightmares after her brother, a violent schizophrenic, admitted he stabbed a pensioner to death. Her brother, James Devine, was jailed for eight years earlier in September for the manslaughter of James Hughes. "I told them [the police] that my brother confessed to killing someone in Belfast," she said.
For the original version including any supplementary images or video, visit https://www.bbc.com/news/uk-northern-ireland-45584620